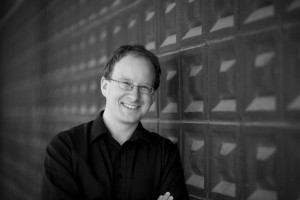 James Weeks (UK, 1978) is a composer of concert music and live performance installations based in Gateshead and London. His work is typically focused on small groupings of voices and instruments, exploring elemental or primary musical materials and processes, either left bare or layered into dense polyphonic structures. He has strong interests in canon, modality, microtonality, open forms and scorings, embodied/haptic dimensions of sound, and plain-speaking. Major works include Schilderkonst (mixed ensembles, 2003-4), TIDE (ensemble and electronics, 2007-10), the South London Harmonies series (for various ensembles, 2008-11), Mala punica/Walled Garden (eight voices and six instruments, 2008-9/2015), The Freedom of the Earth (chorus and instruments, 2011), Three Trios (piano trio and tapes, 2010-11) and Radical Road (voices with stones, 2014).
Three portrait discs of his music are currently available: TIDE performed by Apartment House (Métier 2013), mural performed by EXAUDI (confront records 2015) and Signs of Occupation, performed by Plus-Minus and others (Métier 2016). A fourth disc of Mala punica/Walled Garden will be released on Winter & Winter in early 2017. His music can also be heard on the Wandelweiser, HCR and NMC labels.
He has worked with many leading performers including Plus-Minus, Apartment House, Quatuor Bozzini, London Sinfonietta, EXAUDI, Morgan/Dullea, Wandelweiser, Ensemble Pamplemousse, New London Chamber Choir, Uroboros Ensemble, Endymion, Alison Balsom, Anton Lukoszevieze, Irene Kurka and Christopher Redgate. He has been performed at UK and European festivals and venues including City of London, Spitalfields and Huddersfield Contemporary Music Festivals, Gaudeamus (Amsterdam), Quincena Musical (San Sebastian), de Bijloke (Ghent), Wandelweiser (Düsseldorf, Munich), Weimarer Frühjahrstage and Mafra (Portugal). His music is published by University of York Music Press.
As a conductor he is best known for his work with EXAUDI, the vocal ensemble he founded with the soprano Juliet Fraser in 2002, specialising in experimental and avant-garde work for voices. With them he maintains a busy international touring schedule, collaborating regularly with the world's leading composers, new music soloists and ensembles, and has released eleven CDs.
In great demand as a guest conductor, he has worked with musikFabrik, London Sinfonietta, Royal Northern Sinfonia, ensemble 7bridges, BBC SSO, BBC Singers, L'Instant Donné, Raschèr Saxophone Quartet, New Music Players, Endymion, IXION, I Fagiolini and Birmingham Contemporary Music Group, with whom he recorded Howard Skempton's Chamber Concerto for NMC. He was Musical Director of New London Chamber Choir and Orlando Chamber Choir (London) from 2007-2011.
He is also active as a writer on new music, and occasionally appears as a pianist. In 2006 he co-founded the ensemble Kürbis with the composer Claudia Molitor, dedicated to the performance of contemporary and experimental chamber music.
He studied composition with Michael Finnissy, and was awarded a PhD in Composition from the University of Southampton in 2005. Since 2012 he has been Associate Head of Composition at the Guildhall School of Music & Drama, London.