16 September 2022
I've written the following on behalf of my ensemble EXAUDI, with whom Alastair had a long and close relationship as a singer, composer, supporter and friend.
******
On Monday morning this week we gathered to say goodbye to Alastair Putt. Last month, Alastair – brilliant composer, singer, guitarist, deeply-loved colleague and friend – took his own life after months of severe mental illness. He was one of the kindest, cleverest, most supportive, witty, talented, sensitive and generous people one could ever meet. His death has left all his friends and relations, including everyone in EXAUDI, stunned and heartbroken.
It was a surreal atmosphere that day. Silent crowds lined the streets in front of the Palace of Westminster. The new King drove past on his way to address Parliament. At St Margaret's, where Alastair sang as a member of the Choir for a decade, hundreds of us from all corners of Alastair's life converged: dozens of fellow singers, fellow composers and other musicians, friends from school, from Oxford, from his squash club; his relatives and his wife, Anyssa. This shouldn't be happening, she told us at the start of the service. We shouldn't be here. Grief mingled with a bleary disbelief. Many people tried to help Alastair as his illness deepened; we are left wishing we could have done more, made that extra effort to reach him in his last months; but in truth he was already far from where we might help him, and now he's gone, no longer in pain.
The service was beautiful, a consolation, though terribly sad. The music, much of it chosen by Alastair, was sung with stunning poise by his grieving friends. Most poignant of all was his own setting of a medieval lyric, This Worldes Joie (2015):
Often I sigh and mourn solely
When it comes into my thoughts
Of this world's joy, how it all goes to nothing.

[…]

All the grass which grows up green,
Now it fades all together.
Jesu, help this to be understood,
And shield us from hell!
For I do not know where I shall go,
nor how long I shall dwell there.
Almost too apposite: Alastair's setting captures perfectly the melancholy and encroaching darkness of the poem, in translucent, bittersweet harmony and sense of irresolution – a cry into the winter dusk.
He was, indeed, a deeply accomplished composer, trained at Guildhall (a place he loved and returned to fondly often) and in demand from leading British ensembles and soloists. His magnum opus is probably the orchestral Spiral (2013), performed to great acclaim by the LSO, though much of his music is, appropriately, vocal, and his profound, insider's understanding of vocal ensembles and choirs makes these pieces the place where his creative voice seems – to me – to bloom most fully.
Alastair didn't write very much music: I remember him saying that for him the inspiration to compose was intermittent, often sparked off by a particular commission or request rather than something he felt compelled to do every day. What he did write, though, contains all the marks of the man: each piece a work of supremely intelligent craftsmanship, often delighting in puzzles (Alastair the demon cruciverbalist is another post entirely) and complex rhythmic structuring; witty, deft, sensitive and nuanced. Also, a little awkward, somewhat contorted – the intricacy and ingenuity sometimes on the verge of getting out of control, overwhelming the smooth progress of the music. Not a criticism but an observation: as a space where ideas and thoughts develop and flower but can also become obsessive and knotted, Alastair's unfailingly carefully-crafted compositions are also a moving testimony to the sensitivity and fragility of his mind, of his long struggle to create and maintain a mental equilibrium in which he could live.
*****
We – that is, EXAUDI – first met Alastair…I don't know when. Ages ago. It really seems like he has been around forever. He was singing with us at least as early as 2009. He had a light, flexible tenor voice and a facility and enthusiasm for difficult notes and particularly rhythms: in short, he was a godsend, and though he never chose to develop his singing career such that he might have become a core member, he was our indispensable perma-dep for at least a decade: usually free, delighted to be there and delightful to be with. Of course, he could be grumpy – his impatience with the poor notation and jejune conceptualism of student composers was legendary, and often hilarious – but his complete commitment to the often-complex challenges in front of us made him the perfect man to have on board. In spite of a natural distaste for the fashionably experimental, he loved to be stretched as a performer, and his total lack of singerly pretension, allied to a keen sense of the ridiculous, allowed him to treat even the most unreasonable demands with equanimity.
A quintessential Putt moment must surely be EXAUDI's only venture into contemporary Persian opera (so far), Hossein Hadisi's Zahhák, which we performed in 2013. Alastair delighted in effortlessly mastering the various traditional percussion instruments required, simultaneously singing microtonal lines in Persian at the top of his range and being required to undertake a number of vocal indignities in the service of the drama, including this unforgettable portrayal of a 'high priest'. (When I contacted Hossein to request the footage he immediately made a special link in Alastair's memory.)
We always struggled to get through that number without laughing. He never told us how he managed to make that noise without hurting himself. The rest of the piece is worth watching as well, particularly to see Alastair and his colleagues playing the numerous instruments with aplomb. Whatever he might think of the music in front of him, he was always happy to be part of the fun, and always contributed plenty.
I wish we'd commissioned more music from him: the only thing he wrote for EXAUDI – at the request of fellow tenor Stephen Jeffes – was a short piece, The Nature of Things, inspired by DNA, whose double helix structure he lovingly and painstakingly worked into the structure.
So the years passed, and Alastair became part of our DNA, appearing unfailingly with his satchel over his shoulder, sporting his trademark coloured cords and baseball shoes, ready for another Guildhall workshop, a concert of Machaut or of Boulez. Rhythm was his speciality – the harder the better; pitching, he claimed, caused him the more struggle, though still far less than most. He had a particularly intense relationship with his tuning fork, the source of relief and pain in equal measure as he bashed it repeatedly and often audibly against elbow, knee and head, determined to find the next pitch even if it caused him lifelong injury. And he sang with an unassuming beauty, blending unobtrusively and expertly into the whole with the consummate musicianship for which we admired him deeply.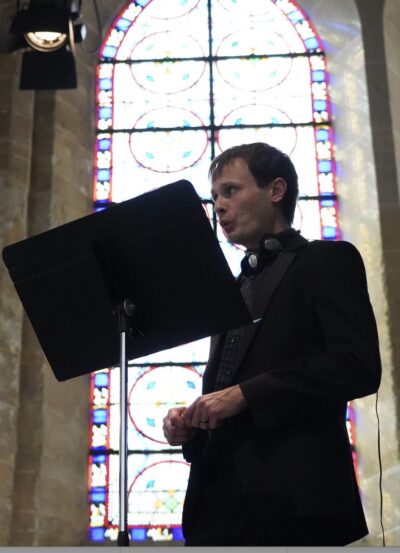 Inevitably, the most vivid memories are the most recent. In September last he joined us for the Academie Voix Nouvelles in the stunningly beautiful Abbaye de Royaumont, just north of Paris. It was one of our first trips after the pandemic, a period which had taken a mental toll on Alastair perhaps more than any of us. It was an idyllic week: we worked hard, learning music by an international cohort of highly talented young composers, then unwound in the late summer warmth, enjoying the pleasure of being in company again after the strange, enforced solitude of the preceding eighteen months. Alastair threw himself into everything, going out of his way to help the student composers, attending their presentations and meticulously preparing his own parts; then joined in whatever was going on, from hours of carefree frisbee to cards to conversation. After it was all over he said he felt more like himself again.
Here he is, giving everything in Soyeon Park's Happily Ever After, alongside Ruth Kiang and Ensemble Linéa.
This is how and where I hope I'll remember Alastair: sociable, unselfish, kind, curious, funny, multi-talented, the soul of wit and good company, corralling us into an impromptu rendition of Poulenc's Quatre petites prières just so as not to waste a good acoustic (it was rather good) and elegantly tossing a frisbee around the monastic grounds in the late afternoon sunshine.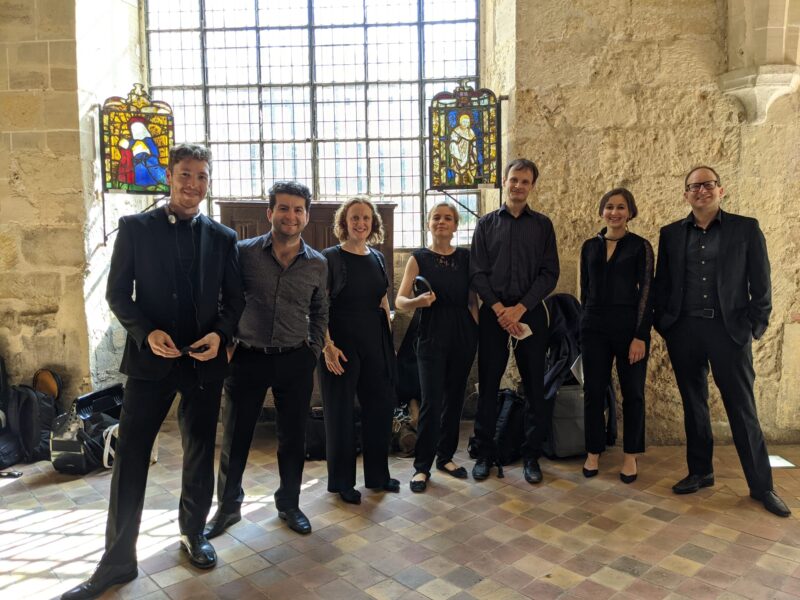 ******
That Alastair had different sides, we knew: the gregarious team player was also the solitary composer (and punctilious music engraver); the man who could be so generous towards others was so self-critical, so tough on himself. We knew he had dark places in his mind, and we knew he had taken some hard knocks, not least the shocking damage to his home by a speeding car last year, which left him in temporary accommodation and unmoored from familiar surroundings and people. It felt as if he went into a tunnel and couldn't find a way out.
Now we have to leave him in our memories, and it's hard to say goodbye. Our hearts go out to Anyssa and to his family. EXAUDI was only one of his many 'other' families, but we will miss him keenly. I hope we can do something in his memory soon – a concert, recording or perhaps a fund in his name – perhaps all three.
Rest peacefully, Alastair – you gave us so much, and will always be a part of us.
******
Alastair's website is here.
To make a charitable donation in his memory, click here.